The international analytical company Clutch has published an up to date rating of companies - developers and providers of IT services in 2020. Innoware is the only Ukrainian company that, according to Clutch, was included in the top ten world leaders in the category of ERP service providers.
Innoware's leadership in the global ranking of consulting companies specializing in ERP systems implementation and support testifies to the high level of our expertise and confirms that ERP systems implementation and support services that we provide to clients are really of the highest quality. We have implemented more than 300 successful ERP projects in the large and medium-sized enterprises located in Ukraine, Czech Republic, Great Britain, Switzerland, OAE, Serbia, Moldova, Belarus, Georgia, Kazakhstan.
Analytics platform Clutch annually publishes professional rankings of technology companies in various professional fields. Experts consider dozens of quantitative and qualitative factors, including the company's experience, industry recognition, technical certifications, representation in the international and local markets, positive customer reviews, financial and other indicators of completed projects.
All data that goes to the Clutch platform is carefully checked, and reviews are additionally monitored by the platform analysts.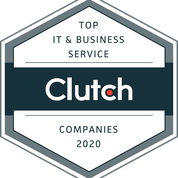 You can read customer reviews about cooperation with Innoware here